The ultimate goal of any school should be to develop self-regulating, self-monitoring and self-motivated learners. Children who develop a capacity to 'know what to do when they don't know what to do.' These broad dispositions or key competencies can be hard to measure, and in political circles can be seen as 'soft' data. Yet these very capabilities are what determine a child's capacity to learn.
Data is an important aspect of the learning and teaching cycle. Professor John Hattie argues that quality data about what a child can or cannot do is extremely important in planning learning – this is common sense but too often in schools we have a preconceived notion of teaching to a standard rather than starting where children are at. An assessment for learning approach is very important for teachers and students.
New Zealand Schools are very familiar with the notion of 'teaching as inquiry',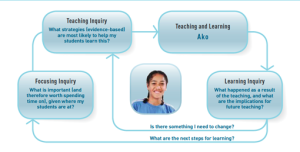 it is an important part of our Curriculum document. In a nutshell it is an iterative cycle. The key aspect of our inquiry into practice is centred on student capability. We ask questions like…
• What is the data telling me about progress of students?
• What is the data telling me about the teaching strategies I am using?
• What does current research tell me about effective practice in this area?
• What am I going to try as a result?
At our place we gather data that gives us detailed information about what students can do, we use a rage of tools and understand that each assessment tool gives us different information. In Years 4 – 8 the use of e-asTTle assessments helps the learner to become more aware of their strengths and areas for development. Teachers and students use this data to plan their next step learning.
Teaching clinics are becoming the norm. We are encouraging students to look at their data and make choices about what teaching clinics they need in order to progress their learning. It is important to note that teachers are acutely aware of the needs of these students and if they notice that a student hasn't self-selected a teaching clinic then they get alongside that student and have a conversation about their learning needs, suggesting they may need to attend a particular clinic. This ensures that the student is getting what they need in order to progress but also serves as a coaching conversation based upon data, thus developing their learning capacity.
This approach is grounded in valid and reliable 'hard' data. Yet the way we use the data develops the broader goal of self-regulation. In shifting the locus of control to the student were are developing the more important key competencies that they need in order to become life long learners. We capture this journey via our Learning Management System in our student learning journals thus giving us a window into student metacognition.
Assessment for Learning mental models drive our professional lives and our teachers are focussed upon the importance of data in everyday learning. This approach takes some time to embed yet the rewards for student and teachers are invaluable in the quest to develop self-motivated, self-monitoring, self-regulating learners.