In short our educative purpose must be to develop self monitoring, self motivated, self regulating learners. Regardless of test results and qualifications our moral imperative is to develop not only a love of learning but an iterative capacity to learn, unlearn and relearn in all our students. In addition to this herculean task we are also focussed on developing happy, well rounded individuals who turn out to be nice and treat others with respect and courtesy. All this in five learning hours a day!
By now it should be no surprise to you that Vision drives our practice at Taupaki School. But how does this trickle down to students? How do we empower students to take responsibility for their own learning? There a couple of levers that we use in our place to help develop student autonomy.
Core Values
Our core values are Nurture, Respect, Personal Best and Learning. These were extracted from our vision. Each is unpacked with students and revisited year upon year. Our children talk about what each core value means and how they put it into everyday practice. When we unpack the learning value it is from an assessment for learning (AfL) perspective. The ultimate goal of AfL is for students to progress their autonomy, to deepen their self-regulatory capacity within a supportive socially constructed learning environment (Black et al, 2003; Cowie, 2005; Nicol & McFarlane-Dick, 2006).
Teachers 'iconify' and attach stories to the core values. The Learning value has attracted the idea of the Learning Pit, an iterative journey that is fraught with frustration yet if we adopt growth mindset strategies (Dweck, 2012) we can overcome any challenge. This redefines the idea of intelligence being what you can recall to a standpoint of intelligence as an actionable disposition – knowing what to do when you don't know what to do.
Student Led Conferences (SLCs)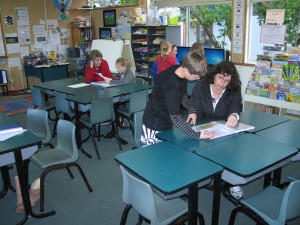 We have a belief that students need to know where they are and what they need to do next. Students look at their data and then co-construct a way forward in their learning. Student Led Conferences are a practice field for talking about our learning journeys with our parents and caregivers. We provide a scaffold for these conferences but the children do all the talking. Our 5 years are so good at it these conferences can last over an hour.
SLCs are the product of teachers using AfL practices in their everyday work. The goal is to move the locus of control to the student. Our use of learning journals in our KnowledgeNET learning management system is a further scaffold for reflection and a gathering point for feedback from a number of sources.
Where to next?
We are starting to see classes from year 4 – 8 use individual learning plans where children plan their week based upon their data, they opt into teaching clinics and in some cases run teaching clinics for others. This is a natural extension in our AfL journey. We are starting to see the practical implementation of personalised learning unfold.
References
Black, P., Harrison, C., Lee, C., Marshall, B., & Wiliam, D. (2003). Assessment for learning. Putting it into practice. Berkshire, England: Open University Press.
Cowie, B. (2005). Pupil commentary on assessment for learning. The Curriculum Journal, 16(2),137-151.
Dweck, C. S. (2012). Mindset: How you can fulfil your potential. [eBook version]. Retrieved from http://www.amazon.com
Nicol, D., & Macfarlane-Dick, D. (2006). Formative assessment and self regulated learning: A model and seven principles of good feedback practice. Studies in Higher Education, 31(2), 199-218.