Tinkering and making is a natural human endeavour. We try to encourage it in our schools but how far do we go?
We bought our first 3D printer a couple of years ago. To be able to draw on the computer and then print it out was indeed an amazing experience. At the start of 2013 we bought another 3 commercial 3D printers and Ian Ingoe set about using them with a client school attending our technology centre – a brave move considering Ian hadn't really worked with CAD or rapid prototyping.
Mark Osborne introduced me to Arduino boards early in 2013 and then I attended KiwiFoo where the world of tinkering, hacking and making was opened to me.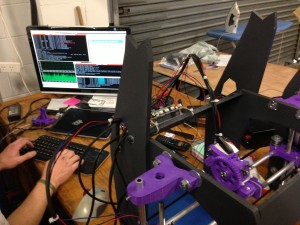 Thanks to Vik Olliver and Tim Carr we managed to build our own 3D printers – something I thought I would never do. all at under half the price of a commercial one and the best part – we knew how the printer worked!
Combine this with the work that JJ Purton Jones and Rochelle Spicer are doing with coding during 2013 as well as the gifted and talented LEGO robotics programme led by Mary Fursdon and it is clear we are developing a maker culture.
Toward the end of 2013 I started working with groups of children working on an innovative Arduino based maker project called Zombie Robots. Watching the problem solving and independent learning reinforced my thinking around deepening a maker culture at school.
Design Thinking is going to be a key driver in developing this culture. 2014 is going to be a year for me to get my head firmly around design thinking from a curriculum implementation standpoint. I can see strong links and many a long dialogue session with Steve Mouldey from Hobsonville Point Secondary School. We both share an admiration of the book Invent to Learn by Gary Stager and Sylvia Libow Martinez
The next steps are already in place. Robotics is no longer the domain of the Gifted and Talented programme – all our year 7&8 children will experience LEGO robotics each week. We have a new teacher joining our technology centre! Kimberly Baars is into Robotics, Arduino, Rapid prototyping and wearable electronics! Zombie Robots will continue for small groups of students throughout the year. Kate Davison – a self confessed 'mad scientist/artist creative who likes robotics' joins our Junior Team and Dana Smith brings experience in student driven learning projects to the middle school! The maker coalition is building!
The long term dream is to turn our Technology Centre into a 24/7 community maker space complete with laser cutters, rapid prototype printers, kilns and design space. We would welcome the community in to work alongside children so that their creativity and wisdom would rub off.
2014 will be about making steps and plans toward developing a maker culture. Progress and everyday stories will feature in this blog.