I had a cup of tea left on my desk about 10am this morning. Amanda, one of our admin stars, left it there for me…
Taupaki School was established in 1899. A single room that doubled as a community meeting space outside of school hours. There have been many changes over the years and we have just finished having our administration block 'remediated' due to New Zealand's infamous leaky building era.
Remediation effectively means ripping down the affected areas and replacing like with like – nothing new. So we have just finished 10 months of construction to move back into the same building with the same space.
During the construction the entire admin team were housed in a tiny Portable office. We lived in each others pockets. Our Office Manager and Administrative Assistant were no more than a couple of metres from my desk and our Associate Principal a few more metres removed. There was no privacy – the walls and doors were paper thin.
It was the best ten months. We had fun, we laughed and joked, we shared and we worked together. I asked for advice, "Carole," I would call out, "I am about to send this email to a parent, how do you think it will land?" Great conversations ensued.
When one of us made tea, we made tea for everyone…
We moved back in to the 'New' old Admin block before Christmas. I didn't unpack as it was a busy time with end of year school and all. So in January I had the chance to set up my office. A chance to do it differently. To turn my traditional Principal Office into an MLE. The first step was to ditch the L-shaped desk and the swivel chair.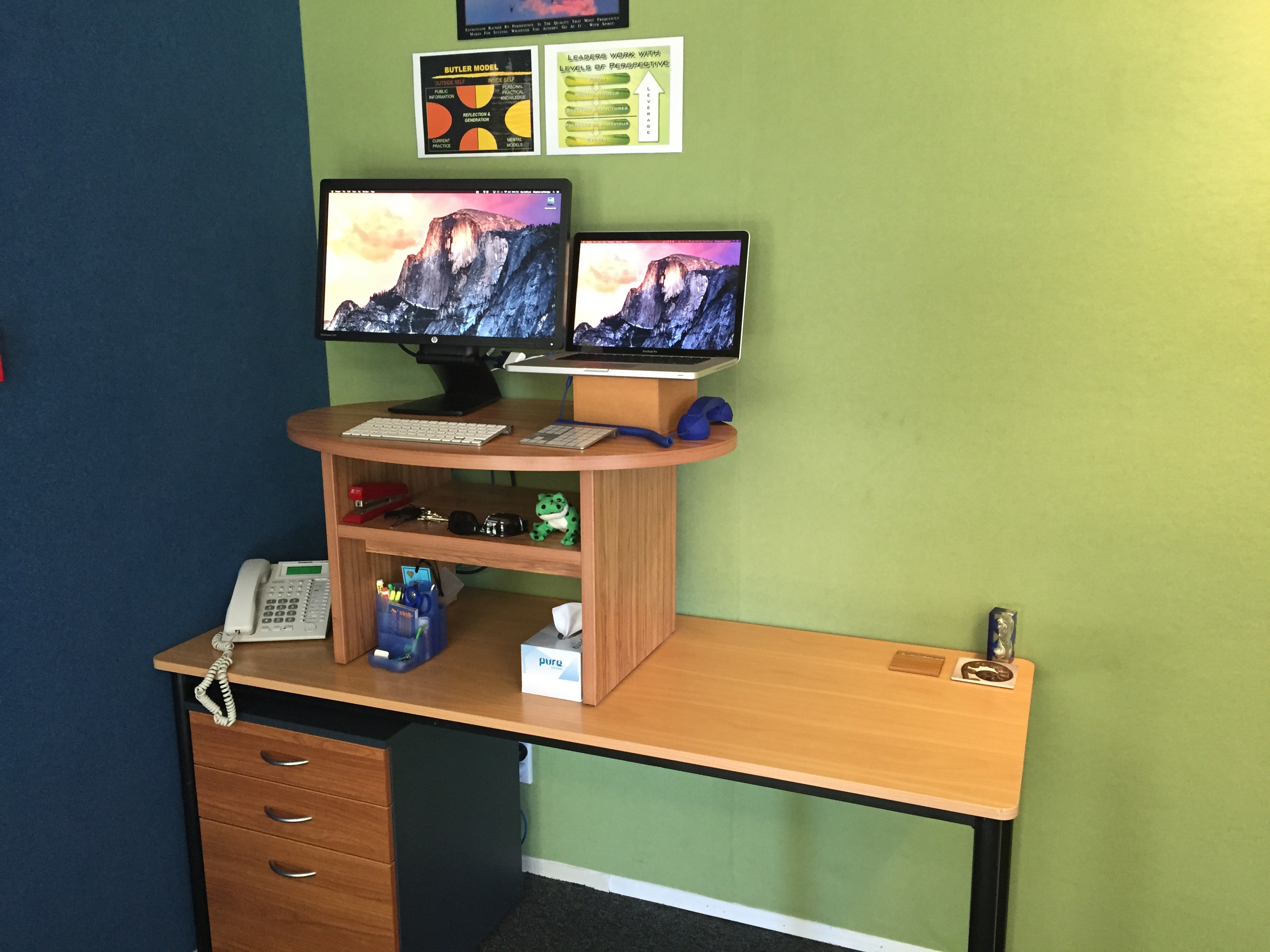 A temporary standup desk (until my ReFold desk arrives) in the corner is working a treat! The couches in the middle give me some reading or thinking space as well as a relaxed place to chat with people. The round table and chairs provide a collaborative workspace. All I need now is a maker corner! The legs are tired (I need new work shoes!) but am definitely feeling the benefits of standing to work.
There is one thing missing… the bustle of people and the feeling of connection as one of the 'port-a-com crew'. I would have loved to have reinvented the space, but we weren't given that option. An open environment with some private meeting rooms for privacy when needed would have been perfect.
That cup of tea on my desk this morning reminded me that an MLE is not a building or room, but a state of mind – a mental model centred in connectivity! Thanks Amanda!