The possibilities, new directions and different ways of thinking and being in schools deserves time. But time is a killer for thinking about what could be. The everyday life of teachers and school leaders is full. We have children who are there in the now and we are constantly dealing with the unexpected, the unplanned and the magic of the teachable moment.
Being able to suspend the now, the urgent, is a challenge. At a recent staff only day I shared one of my favourite quotes…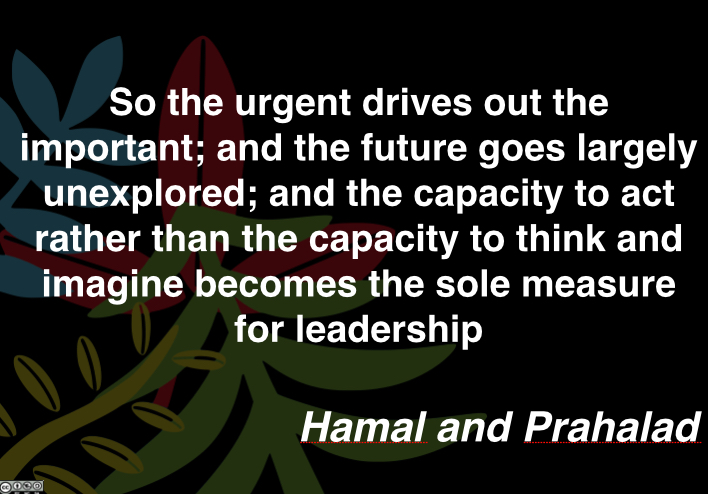 I wanted to surface the idea that as teachers (indeed substitute teaching for leadership in the quote) we need to take a breathe and try to look beyond the waves and see the horizon whilst we are treading water furiously – because if we don't we may be swimming in the wrong direction.
I try to do this. I try to focus on the vision and allow myself time to think about possibilities. But it is tough and does take a discipline that I lack, as I had started this blog with the express intent to write regularly. The initial inspiration to blog came from a number of colleagues who were writing as a reflection tool. I was also amazed at the quantity and quality of Steve Wheeler's Blog – sometimes two or three significant posts a day. When Steve was in NZ last year I asked him how he does it, all of those posts! He talked about making time to cement an important reflective habit.
Hence my commitment to the #28daysofwriting challenge.  I need to get back into (OK in all honesty – start) a writing habit. To perhaps think about the important, the big picture for 28 minutes in each of the very busy and urgent days that exist over the next month. But this term at school is one of the busiest I have seen. Our Associate Principal takes study leave, we have several presentations and workshops to prepare for schools and teachers around the country. I also need to work on a TEDx talk that will hopefully make it to the stage mid year. Combine this with committing to the Programming in Scratch EdX MOOC, oh and leading a school and things are going to be tight.
So getting back to the Hamal and Prahalad quote… Hopefully the action of daily writing in this forum (ok and the gamification of the writing tasks I set in todoist that increase my karma rating) will enhance the capacity to think and imagine the unexplored.