I thought I would try something a little different for one of our Teacher Only Days this year. The letter I send to all staff each year details the staff only days and what we want to cover. This year it said – Mystery Day (wear comfortable shoes) and that was it. The faces when we met the day before did show a little concern. I have often said we should do Paintball as a staff, or a High Ropes course. Those words 'Comfortable Shoes' had some a little uncomfortable.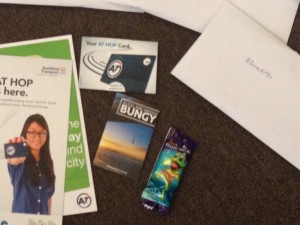 At the end of our first Teacher only day each staff member was handed an envelope containing a clue, a Public Transport Card, Inner City Map, a coloured hair tie,  some chocolate, and a Bridge Climb Bungy Jumping brochure.
I hoped people would get in the spirit of things and the next day I was pleasantly surprised. Teachers made their way via ferry, bus, train and car pool to Britomart and their morning challenge began with finding their teams.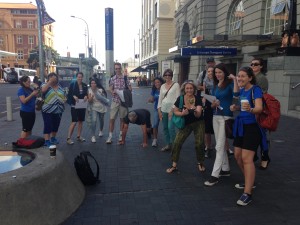 Once all the colours were grouped the task was handed out and the Taupaki Amazing Race began. I spent the morning wandering the streets watching where the teams were heading. I saw Conga Lines formed, Busking attempted, Photos with famous people snapped, Negotiations of high vantage points for photos. I saw smiling and I saw teamwork. Everyone arrived at the first checkpoint and I was amazed at the level of competition for the trophy!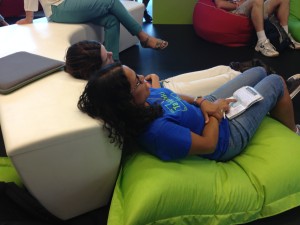 The next phase was a little more sedate – a short bus ride to the National Library for a tour and a Digital Literacy/Citizenship session with Andrew Cowie thank goodness for Bean Bags in their Modern Learning Environment as the preceding race was a little tiring. The resulting dialogue will serve to give more background to our development of digital literacy in our children.
The afternoon saw another bus ride to The MindLab where we met up with Chris Clay for some programming using Scratch, then taking the digital to the physical with MaKey MaKey musical instruments using everyday objects. The creativity of the teams was superb.
The robotics challenges really tested the logic and problem solving skills. Teachers needed to program the robot to accept bluetooth commands from a remote control to then race around the grand prix circuit.
The final challenges saw teams programming their robots to be autonomous search and rescue machines that could grid search using photo-resistors. This produced a lot of frazzled brains yet some considerable success for some teachers who had never experienced programming or robotics! After a long day we settled in for some well deserved pizza and beverages!
So why the need for Mystery?
Well – apart from the fact that I like surprises – this was a lesson in what children in class experience when they have no idea what is in store for them. As teachers we need to remember what it feels like to have someone else organise and plan your day. Some of our staff would have absolutely hated this experience! Some jumped at it, others followed along. Some withdrew, others helped. I kept people in the dark because I wanted them to experience uncertainty and confusion and not because these are bad things but because they are necessary elements in learning. This was about people working with their colleagues doing completely random things! I bet Kim and Rochelle have formed a life long bond after busking with the Fresh Prince Rap (I must get that video online!).
I hope the team enjoyed their day. There are some MaKey MaKey kits on the way thanks to the team at Mind Kits and hopefully we can get them into an outdoor maker box as well as look at an interactive sensory sculpture… more fun ahead.