We have had 3D printers for a couple of years now. We bought our first Up3D printer a few years back for about $4500. Then at the start of 2013 we made an active decision to use the technology of the day in our technology centre with a client school. We bought (leased) another two Up Printers and one Up Mini Printer along with a pod of 8 MacBook Pro laptops so that we could look at a design focus in addition to more traditional forms of technology education.
Within the first three months of 2013 the Hard Materials technology teacher and I had built two Version 1 DiamondMind printers which used a more sustainable form of filament (PLA), open source software, and off the shelf electronic components – all in a kit set form from Mindkits.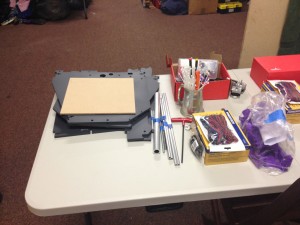 These printers were under half the price of the UP printers, over double the print area, made in New Zealand and most importantly – you could fix/tweak them yourself! You also have the ability to print your own printer as these printers fall into the RepRap category.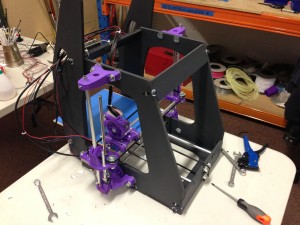 These printers were featured on Breakfast on One with our school providing a little of the education context for the printer. We have had students using a variety of applications for designing in 3D and the printers provide the physical result of that design.
Why 3D printers – they are a gimmick, right?
3D printers are not new technology – in fact in using 3D printers we are not preparing kids for their futures – we are just using the technology of the day – the here and now.
3D printers are more than printing plastic models and must be seen in the bigger picture of thinking digitally in 3 dimensions. Being able to print out the end product is a bonus.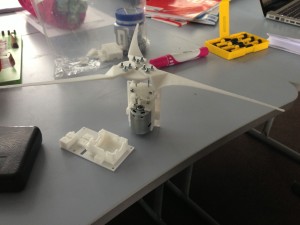 I see 3D printing as creation – we can design / draw in Google SketchUp (remember NZ Schools get your 2013 Pro version codes from Datacom – no need for an .stl plugin), FormZ, TinkerCad, OpenSCAD and then have that design built for us to use. At our place the printers have been used to produce attachments for robots, stands for devices, key rings, buttons, moulds for chocolate, replacement plastic parts – even hooks for school bags (normally $15 per hook for metal under a dollar to produce your own!) Hydroponics containers, modelling prototype wind turbines.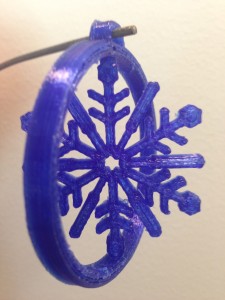 Art projects in a virtual world can become physical through the act of printing them out – vases, bracelets and functional artwork. Imagine being able to produce or replicate your digital creation in the physical world. However the tool is only an instrument of the creative person behind it. As teachers we need to focus on unleashing this creative potential in a digital age.
The power comes when you combine the printing with other maker technology like Arduino (micro-controllers) and electronics. I witnessed an example of this when I had a group of kids putting together arduino light sensing robots from @zombiebothq, the robot has no body – it is over to the kids to make this out of cardboard, lego or wood or as one 10 year old said "I could take measurements of the arduino and the breadboard and draw a case for it in SketchUp then print it out!" –  CREATION!
As always the teacher is crucial – let us look at the normal laser colour printer – yes you could download resources from Sparkle Box and print them – is that creation? The same with 3D printers, you can download from Thingiverse, you could scan using 123DCatch and print out someone's head, or you could CREATE.
This is the new frontier, do you remember getting your kids to design an amazing playground? As teachers we usually said let's build a model of it to sell the idea to the Board of Trustees. The resultant model looked rubbish as it was made of tooth picks, cardboard and toilet rolls. Kids know that the model is budget! But design it virtually in 3D and then have the bonus of printing it as a scale model? The product actually looks like the design. This increases engagement.
We will be printing our own spare parts for everyday items within 5 years – these will be downloaded to your home printer and then printed. Our kids must be able to work in a 3D virtual space in order to be creators.
To those who say 'I can't see the point' I answer with a statement of my own – I can't see the end to the possibilities.
The key to the question is not the technology – in fact leave out the technology full stop! The real issue is us teachers – how are we creating opportunity for creative, innovative authentic learning using the technology of the now?
It is a journey of professional freedom…
My Breakfast on One 15 sec sound bite was never really enough to capture the essence of why we do it. I wish they had used the "It isn't really about the printing it is about thinking and manipulating in the virtual 3D world" comment as it would have made me sound more intelligent than the "our MoE visitors liked it – great engagement!"
I am a firm believer that there is one killer app in education – A thinking Teacher who adapts to change. We are like every other school, we have teachers who are groundbreaking in their approach to using technology and those teachers who doing a great job – the second wave if you like. The biggest factor has been professional freedom – freedom to experiment, fail, redesign and try again. With any resource, technology, or plan it is the teacher that 'makes the magic possible'
The key for me as a leader has been to play and tinker with the technology. I had no clue at the start of the year I would have built a 3D printer (even though it was under expert supervision) I had no idea we would have students coding, Junior School kids using Scratch or Senior students collaborating with another group of year 8s in another school on the their own video game using Unity. I had no idea of the impact that arduino technology would have on my view of bridging the analogue and digital worlds. More than anything the maker movement is having a powerful influence over my thinking about curriculum.
The potential is huge! I cringed when a Member of Parliament and Honorary Fellow of the New Zealand Computer Society Maurice Williamson said 3D printers are dangerous as they can print guns. As a maker friend of mine said "if you want to build a gun you wouldn't use a printer" This technology will be pervasive and, as with any technology, we will have creators and consumers – our kids need a creator mentality. I loved a comment from an 11 year old in my Zombie Robots group – "Hey Mr L I mucked around with the code look what we can make this circuit do now…" As teachers we need to 'muck around with the code' are we using the technology of the day, today? Are we relying on the technology to do it for us? Are we the slave to the technology bound by its apparent limitations or are we the masters of the technology making it bend to purpose?